Our Satisfied Pet Owners & Healthy Pets
Wanted to drop you a note and let you know how wonderful your product Vibrant Pets® is working for my dog. Frey is 13 ½ years old now and had a lot of stiffness in his back and hips. After about a month of Vibrant Pets® (joint and muscle) he is now (aside from sight and hearing loss) bounding up the deck stairs and house stairs after playing in the backyard with my 5 year old. Just recently I ran out of the formula and he went 3 days without it. He was having so much trouble standing up on the wood floors and walking around at night. I won't let THAT happen again! Thank you so much for your wonderful product and for improving my "baby's" quality of life so much.
Sincerely, Traci Eddinger
Traci Eddinger (stiffness in back and hips)
My six year old black lab mix, Marley, is developing arthritis in one of his back knees. The case became so bad that after a simple 20 minute walk around the block, he would limp around the house for several hours due to his gimpy knee. We started supplementing his meals with VibrantPet about four months ago. The results have been extermely noticeable. He knee is still bulky from the arthritis of course, but his pain appears to have been reduced and he no longer limps as a result of walking or running around the yard or neighborhood. We are very happy with the help and relief it has provided Marley.
Chris Thompson
Purcellville, VA
Chris Thompson (Arthritis)
My mother actually got a sample of your product at Expo East in Baltimore. Even though I am in the natural health industry for people, I am always suspect. I started to give my malamute, who is overweight, with spinal arthritis and 13 yrs old and my retriever who has a torn, but mended ACL and is 9……about half of the recommended dosage. I did see some improvement but as time goes by you just sort of expect that. Last night though it really hit home. The malamute was RUNNING down the hall and playing, she hadn't done that in a long while. It was amazing. Her mood and manner is much better she is no longer a grumpy uncomfortable girl. THANK YOU SO MUCH for putting the zest for life back in her.
Kathy Martino
Dana Point, CA 92629
Kathy Martino (Arthritis)
Dear Lee, I can't thank you enough for allowing me to try Vibrant Pets® Canine Athlete Supplement. You suggested I try this supplement on my 13 year old Australian Shepherd, Heather, who was having difficulty with arthritis in her hind legs. After a couple of weeks on the supplement, she is acting like a puppy again. She can't wait to go out in the mornings to hang out at the barn and chase the chickens!! It's great to see her happy and energetic again. Vibrant Pets® has given her a new lease on life! Thanks Again, Shari Howell Purcellville, VA
Shari Howell (Arthritis)
The little girl who works for you called yesterday to tell us there will be an increase in the cost of the joint & muscle formula. She told your name & to write to you personally. As I told her our little 12 yr. old Pembroke Welsh Corgi was having arthritis—usually when he tried to get up & down. Did not do much but lay around with no energy. We took him to our veterinarian and She'd taken xrays. Agreed it was Arthritis. Gave him the first pill—did not help him at all. Then we were told about a product for dogs & horses we got at a local farm store. Then the veterinarian gave him another prescription. Liquid this time. So he was taking 2 types of medications. Then a friend told us about your joint & muscle formula. We took it out to our veterinarian. She said go ahead & give it to him. Five days after he started taking it he was running & playing with his toys—which he had not done for the entire summer. Thank you. Thank you. Thank you. We have our little corgi back again. He walks every morning with my husband as he used to. He has his Happy Little Self back. I'm 71 & was diagnosed with Arthritis in both knees about the same time Murphy was diagnosed. Wish I could take your product & it would do me as much good. Thank you again.
John & Leah Sobjack
Deining, Washington
p.s. He's also playing ball again!
John & Leah Sobjack (Arthritis)
I would like to thank you for coming down to the USA National Championship in Gadsden Alabama in November. I was glad you set up a vendor stand so all the other competitors could see your great product. Since I have been turned on to your product from a very close friend, I have been thoroughly convinced what a truly good product Vibrant Pets® is. I began using your product in the summer of 2006 and have been amazed on what a difference it made on my dogs overall physical condition to include very nice glossy coats. I experimented with my young competition dog Eumah and my older arthritic dog Zao who is coming up on 13 yrs of age. In Eumahs case your product seemed to bring out energies I've never seen in him before both in training and actual competition. He is always in high drive and that kind of engergy requires a good supplement to maintain his high level of energy which is definitely required in my sport. (Schutzhund). In my older dog Zao's case, Vibrant Pets® seemed bring out more energy than I've seen in him in years. After only 10 days of Vibrant Pet Food Supplements feedings, he is chasing my younger dog around the yard and taking longer walks without a problem. Before he would go for a mile or so walk then call it a day, now he can go much longer and always ready for something else to do. His coat was also in pretty bad shape and is now full and glossy. It does not take a rocket scientist to see what a difference your product has done for my dogs and I look forward to using your product from now on. I think your product is very cost effective for my budget and I'm getting much more bang for the buck compared to other supplements that only do half the job. Thanks for brining forth Vibrant Pets® to the pet owners who care for their animals as much as I do. I look forward to seeing you at the major shows and promise I will get the word out about your product to all my dog friends. Hal Lymus
Hal Lymus (Arthritis)
Ashburn Farm Animal Hospital 43330 Junction Plaza Blvd. #172 Ashburn, VA 20147 November 20 To Whom It May Concern: I have some important information if you are considering using Vibrant Pets® as a supplement to your pet's diet. I have found it to be a great additive for all pets, especially geriatrics and arthritic patients. It gives older pets a boost of energy. All of my clients that have tried it have reported wonderful results. I have found it to be palatable and well-tolerated by almost every pet. My own dogs and cats eat Vibrant Pets® formula on their food twice daily. I have seen significant improvements in their overall wellbeing since I have started using the product. And they seem to love the taste! I suggest Vibrant Pets® to all of my patients. After all, proper nutritional supplementation is the key to a long, happy, and healthy life. Sincerely, Pamela Grasso, DVM paw
Pamela Grasso, DVM
February 17 Dear Lee, I just wanted to let you know that we have tried your product on several animals in our clinic and have found it to work well. Older dogs with arthritis have found relief. Shedding has been reduced, and the animals generally seem to feel better. Owners report that the animals are more active and alert and generally feel better. Thanks for a great product1! Most Respectfully,
Albert S. Townshend, 

DVM

Eastern Shore Animal Hospital
6327 Church Hill Road
Chestertown MD 21620
Albert S. Townshend, DVM
Elsa (FC Cali's Red Clay Halo SC)
#1 Whippet and #1 Sighthound AKC Lure Coursing for the 2014 year.
I have been lure coursing my whippets for close to 10 years now.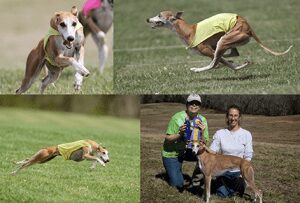 At the beginning of 2014 I had young girl that was showing lots of promise and potential to be a top lure courser but I was worried about her appetite. She was not a big eater and she did not seem to eat well when we traveled. I noticed that her energy was diminished the second day of competition. A competitive sighthound can run up to 6-8 courses each weekend, each course consisting of a full out sprint for around 1/2 a mile.   Lack of eating all weekend could make a difference in her final performance.  So my first thought was to go to Steve Watson. I had known Steve for some time at this point and I asked him if he had any supplements that I could add to her food that might make what little she did eat more nutritious.  He had an answer right away and got me a bag of "Vibrant Pets® -Athlete Formula" and said to add it to both her raw and dry food.   To start with, this picky eater loved it and I have added it to all her meals all year (as well as all of my competitive and growing whippets). She started out the year with great sucess and finished her field championship title in record time, just 5 trials of competition and she immediately jumped into the #1 spot by early spring!   Unfortunetaly at the end of May she had a small injury to a foot that happened in the back yard. Despite seeming minor, the injury required surgery and took her out of competition for a full 4 months.   By September she had fallen in the rankings and any hopes of being #1 were gone, but we were just thrilled that our young girl could run again!!!   She seemed to have a complete recovery so we continued to run her locally and had our sights on the following year. However, this little girl was not done and by mid-fall we checked the rankings and she was back near the top.  Suddenly our hopes were sparked.  Despite the limited running she managed to finish the year in the #1 spot, and accomplished an amazing record!   She ran only 20 trials and won 9 Best of Breed wins!!!  We are so proud of this young girl and send a Big Thank You to Steve for helping this girl make it to the top!!!
–  Dr. Deana M. McNamer, DVM
Cali Whippets
Dr. Deana M. McNamer, DVM
My 11 year old blue Doberman Garth was, lame due to a neck injury, bald, with pressure wounds on his elbows. I was told when he first went down that her would only have a couple of months to live before his organs would fail due to his lameness. He had been bald for years, the vets all said "Blue Doberman Mutant Freaks". In order to be blue they have genetic defect that affects skin and coat. Most blue's are bald or very thin haired at mid life or so. I carried Garth outside for his potty breaks and had to support his body while he did his business. This was no easy task, Garth weighed in at about 90 pounds. His pressure wounds were a result of his down time. We tried every brand wound gel and homeopathic wound products known to man kind. Nothing seemed to help heal his elbows. Garth continued to eat and drink and have a real zest for life, I refused to put him down as long as he was acting like himself. My mother had told me about a new product called Vibrant Pets® that she had just purchased. I started to use Vibrant Pets® Canine Athlete Formula. I could not believe the results, and neither could my veterinarian. Garth began to first grow hair, where he had been bald for years. Even in the early years when he had almost a full coat of hair, even his sides. I began to notice that Garth was starting to use his hind legs to better position himself in his bed. In the next 2 months Garth had regained so much strength and movement in his hind legs that he could stand on his hind legs while I supported his front. This was a huge blessing; it made holding him for his potty breaks so much easier. The pressure wounds that had responded to nothing were slowly now healing. The new skin growth on his elbows was slow but steady. All of the improvements came only after using Vibrant Pets®. AT 13 years of age Garth was diagnosed with bladder cancer. We began to use cancer medicines, and was told to expect his health to begin to decline. Garth lived an amazing 6 months after this diagnosis was given. During the 6 months he never showed any standard bladder cancer signs. There was never any foul odor in his urine, and almost no blood was visible. Once again the only explanation can be the Vibrant Pets®. I am sure that Vibrant Pets® gave Garth 2 very good years of life. He was said to be "down for the count" at 11 years of age and he lived to be 13. When Garth had to be seen at the veterinarian's office, all of the doctors would come to visit him, to see the dog that had defied all the odds for years. I still use Vibrant Pets® on my remaining healthy dogs, and they shine and are so soft that people always ask me what I give them. I recommend Vibrant Pets® to everyone. I can't thank this product enough. Sincerely, Wendy Skelly Lovettsville, Virginia
Wendy Skelly (Cancer)
I started giving my 14 year old Boston Terrier Vibrant Pets® that I purchased from Canine Caterers a year ago.  At first he had so many issues I didn't see any difference. Stop using it and this past January I started using it again. What a major difference and I feel like an idiot for not keeping up with it the first time.  He acts like a puppy and no more diarrhea.  I adopted him a year and a half ago and he had diarrhea the whole time. So this is a very big deal to me. He has more energy and all he wants to do is play.  I feel like I have a puppy instead of a senior dog. I suggested my sister try it for her dogs as well.  Yesterday my brother in-law wanted to know what kind of drugs I brought over.  He said that there dogs are acting like puppies again.  Both are pits that are overweight and think they are lap dogs!  My sister said that her male has had loose stools in the past and not now. I can't tell you enough how much I appreciate your commitment to making a difference in the pet world.   I don't know that I have been this passionate about anything in a long time. I tell everyone I talk to that has dogs that this is the best product and don't wait for health issues. Start using it now.  Why wait. Don't wait to see the pain. Reap the benefits now of a happy healthy pet! Thank You, Ginger Cole
Ginger Cole (Digestive issues)
I began using your supplement Canine Athlete on my Doberman in late September. You were kind enough to deliver a bottle to me the day before I was to leave on a trip and I started using it right away. It took about two weeks before I noticed the problem he had been having, diarrhea, was improving. Once he started to get better, he did so quickly and is now doing really well. He's off all the medications the vet had him on because he no longer needs them. Thank you so much, your product has made a huge improvement in both my dog's life and mine. I'm still getting the supplement, but do so through Canine Caterers since I've also started using their food. I just wanted to tell you how glad I am that I found out about your company and product. I've told others and I already know several people who are starting to use it for their dogs. Thanks again. Sandra Tugwell
Sandra Tugwell (Digestive issues)
I extend my sincere gratitude to LEE and Irena at The Doggie Wash for suggesting Vibrant Pets® Athlete for our dogs! Granted, my initial response was that of reluctance. We have a menagerie of wonderful dogs, all from a rescue shelter, each having their own health issues. Solving these issues can become a menagerie in itself. Since starting our dogs on Vibrant Pets® Athlete several months ago, I have seen a noticeable difference in all of our dogs …… almost miraculous. They began responding almost immediately. Once again, our Terrier has hair, very soft hair! Truly, she did not need more bounce in her step, but it's there! Allergies contributed to considerable hair loss, especially in the Spring and Fall. We had tried everything, including prescribed medications, not to mention chamomile tea baths. Our older hound responded after only three days. Forever, he's had a sensitive stomach, often resulting in vomiting and diarrhea. Through the years, we've tried many different dog foods, holistic, naturals, etc. He does wonderfully on Vibrant Pet and no longer has diarrhea or vomiting as a result of his diet. All of our dogs have brighter and softer coats, more agility and anticipate feeding time, even more, if that's possible. With Gratitude, W. Napier Leesburg, Virginia
W. Napier (Digestive issues)
My Saint Bernard has suffered from hip dysplasia since birth. The breeder offered to give us a free puppy upon showing proof that we had put him down. We were aghast to say the least. Soon after, we started taking Ulysses to the Doggie Wash in Purcellville, Virginia, for the best bath in the state, whereupon we were introduced to Vibrant Pets® Joint and Muscle Formula. We immediately put Ulysses on the supplement, and were happy to see improvement, therefore avoiding pain medications. Since using the new, improved Joint and Muscle supplement, he has increasingly become more energetic and playful. He receives three scoops per day in his food. My children immediately recognized that the new formula no longer has a strong medicinal smell, and constantly remark that his fur gets softer everyday. Most importantly, Ulysses leaves no supplement behind in his pan at mealtime. Thank you, Vibrant Pets®, for caring about the health and nutrition of our pets and best friends! The Paulovkin Family
The Paulovkin Family (Euthanasia)
Hello, Our beagle/ foxhound mix was a major shedder. Thanks to this product, her shedding has practically disappeared. Her coat is extremely shinny and I no longer need to vacuum on a daily basis. An added benefit to this product has been that we have noticed our grass is not full of yellow spots! Yeah! Thanks for such a great product!! Margie
Margie (Excessive Shedding)
Per the suggestion of the owners of The Doggie Wash, I put my very active Aussie on Vibrant Pet Ultimate Formula October 2006. In just one month have seen a huge improvement. As a puppy, he had surgery on both of his front elbows and has always had a sensitive stomach. Now he can run and play without being sore afterwards, his shedding is noticeably less and he is able to tolerate various people food and treats that he couldn't before. I would strongly recommend this product to anyone with pets. Claudia O. Pennie
Claudia O. Pennie (Excessive Shedding)
My husband and I walk into the Doggie Wash to pick up our Miniature Schnauzer, Missy and our English Mastiff, Bentley after a nice bath and grooming. Everything was beautiful, then they asked if we had our pets on Vibrant Pets®. As they were telling us about it, all I could think of is…"Here we go, another way to get money out of us! My husband is such an easy sell and I knew it was coming…"Honey, I think we should try this!" Oh, brother!…whatever…I was not falling for all that they claimed it could do! So, off we go with the biggest jug they offered. I told my husband that I was a total skeptic, but that we would try it for a couple of weeks and I was sure we would be returning it for a refund after the two weeks were up. Well, two weeks later, to my surprise, we noticed a big difference in both our dogs. Missy has always had trouble with allergies and we've had her on a couple of differant medicines, none of which seemed to do much, except make her sleepy. After the first couple of weeks on Vibrant Pets®, she stopped licking her paws and rubbing her eyes. She is more active and playful and her skin and coat are beautiful! And Bentley, the English Mastiff, is acting like a young puppy again. Because of his size, he sometimes would have trouble getting up and moving around (especially after sleeping all night), but now he jumps up effortless and runs around like a playful pup! And his coat is also softer and shinier! I also have noticed both dogs have an improved digestive system. (I'm the one that does the clean-up, of course!) I have to admit to the world, I was wrong! Vibrant Pets® really does do all that they claim it does and I am confident that it will extend my Mastiff's life and make for a better quality life for both my pets. Now, when will they come up with something for my Cockatoo? Sincerly, LuAnn & Jim Thrasher Aldie
LuAnn & Jim Thrasher (Food Allergies)
My cat is old and for the last 6 months has lost about 40% of her body weight. She hadn't played much at all recently and we thought that her time was coming to an end. We never heard of the Vibrant Pets® Ultimate Formulas Frisky Feline before and thought we may as well try it. It has been about a month now of using it in her food and it has made a difference. She seems to have much more pep and energy. She is now doing something she hasn't done in several years, jumping up on things. Although she still struggles to jump up, hip deterioration, she can now jump up onto chairs. She is eating more and of course going to the litter box more. We are very satisfied with this product and will continue using it.
Frisky Feline 1
Since using this product (since April, '08), my 6 year old domestic long hair has been acting like he is a 1 year old. His energy has noticeably increased and he purrs non stop. The major improvement is that he used to throw up almost weekly–sometimes food, sometimes hairballs, sometimes both–now I can't remember the last time he has puked. His stools have also improved–solid, not loose. I also like the fact that this product is all natural, and made in the USA! I highly recommend it.
Frisky Feline 2
I have a kitty that has a chronic viral condition; this product was recommended by my veterinarian. I have seen a definite improvement in my cat's overall health since I began supplementing his diet with this product earlier this year. Another one of my cats has always had loose stools from years of haphazard & 'wild' nutrition (he was an feral outdoor cat before I brought him inside). After a few months on this formula, his digestive system has thoroughly improved.
Frisky Feline 3
Dear Vibrant Pets®, Thank you for donating your product to Rescue Kitty Tabby.  He somehow had torn his A.C.L. and my vet had recommended surgery which I am unable to afford due to being unemployed.  He had suggested to see if scar tissue would form and eventually hold his knee in place and to try and find a quality joint supplement product he would take to see if it would help.  I search several products and tried a few without success.  I found your website and called to see if Vibrant Pets® could be used for cats.  The gentlemen I spoke to said most definitely and since Tabby was a rescue they would donate the product. He has been taking 1/2 scoop since 9/23/09 and since then he has gone from being a couch potato to become more active and walking around and even starting to jump short heights.  I am very careful about letting him jump, as I do not want him to damage it any further, but he is almost back to normal in such a short amount of time. I was afraid that he may have to be put down as he was in a lot of pain.  I cannot thank you enough for your product and helping him get his mobility back. I have been also working on his diet as he needs to lose a few pounds.  He has always been a large cat 18lbs since I rescued him!!!  He was getting 3/4 cup of Science Diet Mature dry food  but has been reduced to 1/2 cup. I have attached a couple of photos of him  for you to see what he looks like! Thank you once again. Candy & Tabby Peterson
Frisky Feline 4
Esther came into our shelter anemic, emaciated and dehydrated. She was diagnosed with diabetes and hyperthyroidism. BTW, my family and I adopted her!  
Rita-Anne Provenzano Special Events Coordinator Pennsylvania SPCA 350 E. Erie Avenue Philadelphia, PA 19134
Frisky Feline 5
Dear Vibrant Pet, I am Bobbie from Wisconsin, I have raised and shown Persians and Exotic Cats for over 20 years and now Maine Coon Cats the last 4 years. I started giving select groups of my cats Vibrant Pet Food Supplements in July of 2007. My 3 year old Maine Coon male was having an immune system problem that was affecting his skin (hair loss and open sores). After one month on Vibrant Pet his hair was growing back and the sores were healed over. My retired altered Persians and Exotics main problem was digestion. Excessive vomiting and constant licking causing hairballs. After 6 weeks this group showed a significant drop in the excessive licking, itching and almost no vomiting. My Show adult and 2 kittens (Maine Coons) went to a show after they had been on Vibrant Pet for a month, Judges and other Exhibitors wanted to know ( How did I get a coat like that on them?). The only difference was they were on Vibrant Pet Food Supplements. All my cats are now on Vibrant Pet Food Supplements. Even though I feed a high quality cat food (Royal Canin) I feel that Vibrant Pet Food Supplements still enhance this food by causing better digestion and providing nutriments that the cat food does not have. GREAT PRODUCT! I recommend this product to all who acquire a kitten or adult cat from me. Bobbie from Wisconsin
Frisky Feline 6
Dear Jane, We have a 6 year old beagle, Ernie, who has been a couch potato for a few years now. It was complicated by injury to his knee(s) which required ACL replacement in March and July of this year. We started Ernie on Canine Athlete formula in August to try to alleviate several symptoms listed in your website, mainly relating to pain in the joints, skin flakiness/coat dullness and general lethargy. In the first two weeks we noticed definite improvement all areas. In fact, his coat which was shaved from the 2nd surgery is as long as the shaved portion from the 1st surgery and is very shiny and full. We adopted a puppy right before the 2nd surgery and now Ernie plays vigorously with him and in fact the puppy sometimes has to run away from Ernie. We believe that Vibrant Pet Canine Athlete formula has given Ernie a new "leash"on life. Sincerely, Frank & Rita Van Lenten Liberty, SC Dog 21
Frank & Rita Van Lenten (General Pain)
Hi Lee, I just wanted to thank you for introducing me to your Vibrant Pets® line of supplements for our dogs. We have 2 Golden Retrievers that are 4 years old. Buddy, our male, was diagnosed with sever hip dysplasia the day before his first birthday. We were so upset, we felt we had done everything right to avoid that kind of thing, but to no avail. Up until that point Buddy was very active, it was hard to keep in down. But then he started limping and that's when we found out why. He had been on anti-inflamitory drugs ever since, prescribed by our vet. He got to where he wouldn't run or jump hardly at all. Then I met you and you gave me Vibrant Pets® to try. What a difference! Buddy is so spunky now, he even jumps! This is something that we will continue to use on a regular basis for both dogs. Thanks so much.
(Dysplasia)
We wanted to let you know how well your product works for our dog, Buddy.  He is a sixteen year old shepard mix who started having some trouble with his joints a few years ago.  We tried several nutritional supplements, but Buddy didn't show any improvement until we started giving him Vibrant Pets®.  He is doing amazingly well for his age – he thinks he is still a puppy! (Attached is a picture of him) We have started our other dogs on Vibrant Pets® as well, just to keep their joints healthy.  Thanks for making such a wonderful product. Daniel and Winnie Harpers Ferry, WV
Daniel and Winnie (Hip & Joint)
Dear Lee and Irina, I just wanted to thank you both so much for recommending the Vibrant Pets® Canine Athlete for my maltese. My maltese is 8 years old and came from a puppy mill, therefore, he has alot of physical issues. Since birth he has never been able to jump on the couch due to his joints in his knees. Of course that hasnt stopped him from jumping off the couch every time he sees a leaf blow by the window. Therefore, you can see where I'm going with this. I spend alot of my time picking him up and putting him on the couch all day long. This has been going on for 8 LONG years (he has me very well trained) That is, until you recommended that I start giving him the Canine Athlete. Well, I am usually the biggest pesamist, but you convinced me to try it and boy am I glad you did. It's a MIRACLE!!! It wasnt even a week and right before my eyes, he jumped up on the couch!! He acts like a puppy again with such energy and he has that sparkle back in his eyes, oh and did I forget to mention, his tear stained eyes have improved at least 75%!!! It was so noticeable that my sister in law from out of town actually asked me about it before I could brag about this wonderful new product!! This is such a great product and has definitely proven itself to me. I am starting my two Labs on it since they too have alot of issues. I'll keep you posted on their progress!! Thanks again, Your forever loyal customer Robin Hall
Robin Hall (Hip & Joint)
My dog, Fred, has been taking the Vibrant Pets® – Canine Athlete formula for the last several weeks. I noticed a difference after the first few days that I started mixing it in with her food. Being 12 years old, Fred had the typical joint issues that come with a dog of that age (limping, easily injuring her legs, etc). After starting her on the Vibrant Pets® she literally seemed to revert back to how fit she was at age 5 or 6. She no longer exhibits any signs of limping or soreness in her joints. She tears around the back yard like a dog half her age. It's wonderful to see a product that could give so many years back to her. Thank you so much for turning us on to this wonderful product. You have a new constant customer! Thank you! Courtney Wayland (and Fred)
Courtney Wayland (Hip & Joint)
I want to write you and let you know that you saved one of our dogs. Taz was rescued from a meth house in Iowa 7 years ago. My wife's best friend was the one who saw him and realized he needed a better home. He was 6 months old. About 2 years ago she and her husband fell on financial hardship and my wife offered to drive to Chicago to get him. He was an instant hit with our kids and our other dog, Caleb. When we got him he was very overweight, because he had to be fed table scraps. We knew he had bad hips and tried a several methods to help. He went on prescription meds. They made him throw up. We tried another over the counter med (aspirin coated in mylanta). It made him throw up. We tried glucosamine/chondroitin from a mega chain pet store, it did nothing. Finally while at a store in Purcellville, VA and saw Vibrant Pets®, joint and muscle formula. Since being on this he is a different dog. He is full of energy and spunk. Although he is still overweight (a continuing battle) we hope that he will be with us for many more years thanks to your product. Sincerely, Dave Davoudlarian & Taz
Dave Davoudlarian & Taz (Hip & Joint)
Lee suggested we use the Vibrant Pet Canine Athlete formula for our Wheaten Terrier. We have used it for both our 14 year old Wheaten and our 11 year old beagle-mix for about a year. Before using this formula our wheaten was not very active and you could tell her joints were sore. She is now very active, loves to go for walks, jumps up on everything and you can tell she feels good. Our beagle acts like a puppy – and her coat is gorgeous – soft, shiny. Both are very healthy dogs and we plan on continuing to use the Vibrant Pet Canine Athlete formula. Thanks Doggie Wash! Sharon Wilson
Sharon Wilson (Hip & Joint)
Hi Jane Sorry I didn't get this to you sooner, as promised. I had misplaced the info you sent and just couldn't put my hands on it. I have given a pamphlet to 3 different vets and have also passed along your website etc to several other dog people. As I mentioned to you on the phone, one of my dogs had what looked like a wound on her hind leg that I thought she may have injured on the kennel run. I had cleaned it up and put medicated salve on it. After several days it wasn't healing. That was about 5 to 6 years ago. Throughout that time, I tried various medications, accupuncture, sprays, salves, you name it. I researched different subjects that someone thought it might be. She was taken to 4 different vets over a period of time, one of them being in Canada. A couple of the vets diagnosed it as a lick granuloma. Most of the time I had it bandaged with various types of salves etc. I never really did see the dog licking it or trying to get the bandage off to get at it. She would clean off her legs/paws from either the morning dew or wet from rain. I did get the one leg so it wouldn't just open into a sore but the problem came out on the o ther leg. That got infected a couple times and she was on antibiotics. This last Spring or earlier, a friend in Canada told me of your product that she had seen at one of the trade shows. I checked out your website and decided to try the product. Probably a month went by and I noticed the leg was starting to heal up. Since using the product(I chose the Canine Athlete) there has not been any out break of sores or the skin just opening up. The skin is now a dark color underneath a new growth of hair. No bandages, salve or other meds have been used since. It has been great not having to be concerned about flies, bacteria etc. Other than a bout with pneumonia in June of this year, she is doing good and turned 13 on August 1. As to the diagnosis of the vets and the thoughts that many friends and others had, I don't know if there has really been a conclusive answer to this particular problem. As to being diagnosed as a lick granuloma and then healing over…….maybe the magic powder may be something to try on other dogs with that same problem. I can only say that after using the Canine Athlete, the sores went away after being present for years. Thanks Sandy, from Michigan
Sandy (Hot Spots)
I extend my sincere gratitude to LEE and Irena at The Doggie Wash for suggesting Vibrant Pets® Athlete for our dogs! Granted, my initial response was that of reluctance. We have a menagerie of wonderful dogs, all from a rescue shelter, each having their own health issues. Solving these issues can become a menagerie in itself. Since starting our dogs on Vibrant Pets® Athlete several months ago, I have seen a noticeable difference in all of our dogs …… almost miraculous. They began responding almost immediately. Once again, our Terrier has hair, very soft hair! Truly, she did not need more bounce in her step, but it's there! Allergies contributed to considerable hair loss, especially in the Spring and Fall. We had tried everything, including prescribed medications, not to mention chamomile tea baths. Our older hound responded after only three days. Forever, he's had a sensitive stomach, often resulting in vomiting and diarrhea. Through the years, we've tried many different dog foods, holistic, naturals, etc. He does wonderfully on Vibrant Pet and no longer has diarrhea or vomiting as a result of his diet. All of our dogs have brighter and softer coats, more agility and anticipate feeding time, even more, if that's possible. With Gratitude, W. Napier Leesburg, Virginia
W. Napier (Hot Spots)
Hello Gena and Lee…….as I had stated in our telephone conversation your Vibrant Pets® Canine Athlete supplement is a miracle. Our Bichon "Teddy" developed a severe limp in his back right leg and was hopping on three paws. A neighbor of our's had the same problem with their Great Dane and recommended your product as the only thing that really worked. I must say that after 2 weeks the limp is gone and he prances along like he did before. "Teddy" also had severe skin reactions after grooming, Scratching to the point where he drew blood………not any more!!!!!!!!!!!!! Skin allergies seem to be a thing of the past. Thank you so much for such a great product and "Teddy" thanks you also. Keep up the good work!!!!!!!!! Best regards, Doug, Kathy, and Teddy Railo
Doug, Kathy, and Teddy Railo (Injury)
Dear Lee, I met you at the Edison Super Pet Expo where my friend and colleague purchased the 'joint & muscle' vitamin for my 6 year old Labradoodle DJ. He has been taking it for 2 weeks today and both my husband and I (my daughter too) see a distinctive change. He had injured his ACL (rear left leg) almost a year ago. We elected not to put him through surgery and sought alternative treatment with a vet acupuncturist/chiropractor. Actually he had an acupuncture and chiropractic adjustment treatment 2 days before I started him on the vitamin. He did well with the acupuncture/chiropractic treatments last year – at first going regularly and then every 6 weeks – 8 weeks. He's been up and around on his legs for over 11 months now – Since he's been on the vitamin we see him acting ½ his age – actually even bringing some puppy behavior back into his repertoire (like standing on his hind legs and checking out the counters – he hasn't done this in years—not necessarily desirable but certainly noticeable!) –he sees our other young spaniel (10 months) doing this all the time but hasn't tried it since the vitamin and he's done it a few times already! The first night after I gave it to him he actually got into a fight with our other dog which never happened before (blood was spilled – but wherever the wound was it was superficial). My husband joked yesterday when I was making him a smoothie that maybe I should put some of it in the smoothie for him – my husband. Thanks again. All my best, Dorry Bless DORRY BLESS Celebrant
Dorry Bless (Injury)
Want to read more about what our customers have to say? Read more of our almost unlimited customer testimonials by click the button below!